Whilst browsing through my Facebook feed one day I was intrigued to see a little bear looking right back at me. He was very cute and seemed to be inviting me to take a closer look (that's my excuse anyway for hunting out more adorable pictures!) and not wanting to disappoint such a sweet creature, I did. And I discovered a whole world of adorableness.
As usual, this post is in no way sponsored or influenced. The crafter featured is genuinely a favourite of mine; all quotes are the crafter's own and the opinions are mine. So, with this in mind this week's UK Crafter of the Week is...
Madame Craig
As her name suggests, Madame Craig is indeed French. She has a background in architecture and up until 5 years ago work as a designer at an architecture practice in Scotland. Looking for a new career when the economic recession hit, Madame Craig (Rachel) trained as a teacher at a Waldorf School in Edinburgh and now teaches arts, crafts, architecture and technical drawing - hence the 'Madame'. She says the children and parents are her 'best clientele' and so thought Madame Craig was an appropriate name for her shop as this is how they know her! Rachel's needle felted work is inspired by her career where there is a strong element of creative play emphasised in childhood development and learning.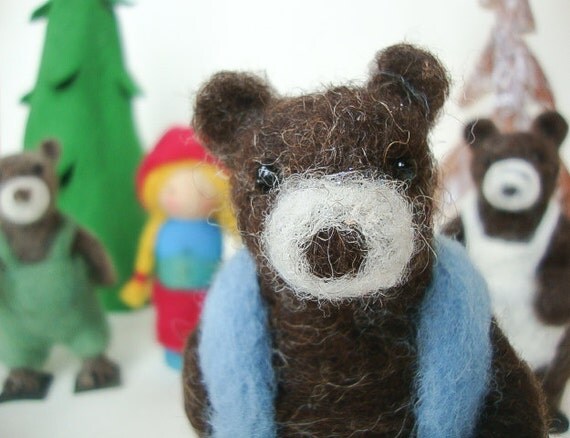 Wool Felted Goldilocks and the Three Bears by Madame Craig £80
Artistic expression and creative learning are key ideals within the teachings of a Waldorf education and Rachel's adorable characters certainly encourage this. I think the Goldilocks and the Three Bears story telling toys would encourage most children to use their imagination and be transported into the fairytale forest to act out the tale and learn about the actions and morals behind it. I used to be an English teacher myself and think this is a fantastic way, especially for young children, to explore stories and why they are important to our culture.
Even maths can be imaginative! (Sorry to all the mathematicians out there, I never found the subject interesting). These finger puppet gnomes are ideal for using poetry and story to encourage learning and would certainly helped me out as a youngster. Every parent knows that making learning fun is a great way to gets kids to develop with an open mind rather than the moans of 'boring' which can be heard all too often.
Madame Craig's work is also appealing to adults and for decorative purposes too. This cute fox would make a lovely little ornament in your home. Rachel found herself 'naturally attracted' by 'Waldorf crafts and colours' and you can clearly see why with the beautiful, bright orange on this fox. All her pieces are made by hand and mainly by needle felting. I think they'd also make gorgeous table decorations to create a themed scene for a special occasion (I love decorating tables!) and could even tempt the grown ups to use their imaginations too!
There are also seasonal characters available such as this gnome out for an autumnal walk as well as some irresistible The Snowman inspired creations for the winter. A great excuse to collect a few characters and change them around through out the year!
To see more of Madame Craig's work take a look here:
Etsy - Madame Craig
Facebook - Madame Craig