If you saw my post earlier this week about the Christmas cards I've been making you'll have noticed I have a fixation with Russian dolls. Every time I see one somewhere I have to stop and have a look, and that includes online too. So imagine my delight when browsing around one day I saw a whole collection of Russian doll jewellery! Taking a closer look I found some other fun finds too.
As usual, this post is in no way sponsored or influenced. The crafter featured is genuinely a favourite of mine; all quotes are the crafter's own and the opinions are mine. So, with this in mind this week's UK Crafter of the Week is...
Jackdaw Jewellery
Jackdaw Jewellery is the work of Christina who's based in Wales where she handcrafts all her quirky and unique accessories. She chose the name Jackdaw as they are 'mischievous little birds and full of character. Much like myself and I believe my customers!' and also because 'they like shiny things'. I think this name really suits Christina's work with its fun characters, colours and designs as well as the wonderful shininess of the resin which is one of her favourite materials to work with.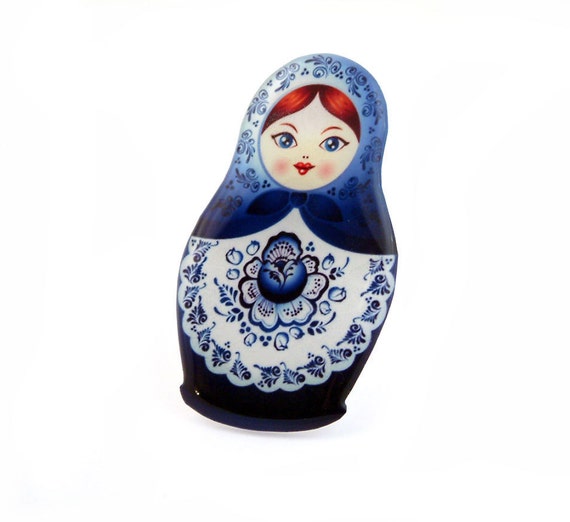 Matryoshka Russian Doll Brooch £5.80 Jackdaw
This pretty bunting necklace is a great example of what can be done with resin. Fabric samples were used and printed to plastic before being coated with with thick resin to give them an amazing shine. Christina says the necklace was inspired by 'summer garden parties' and each pastel coloured flag does bring back memories of the summer, which seems so long ago now on these chilly mornings! This piece would be great for helping you remember sunny days all year round.
Christina describes herself as a 'jewellery fanatic' who is 'lured in by the sight of something shiny' and also has a love for rings which 'knows no bounds'. All of which come together in this fantastic gold leaf and resin ring (something no real life jackdaw could resit swooping in for!). For me this ring sums up what I've seen of Christina's work; it's bold yet delicate and a unique piece sure to stand out in any jewellery collection. The ring is part of the Opulence range - and you can certainly see where it got its name from!
Christina has been making jewellery since she was at school and has developed it into a passion today. She admits that her first pieces were 'amateurish' but loved the idea of wearing something she'd created and that was unique. Her skills have certainly developed over the years! All of Christina's work look spectacular with its bright colours and clean lines. And what I love the most about this jewellery is that feeling of uniqueness which is still at the heart of Christina's creations.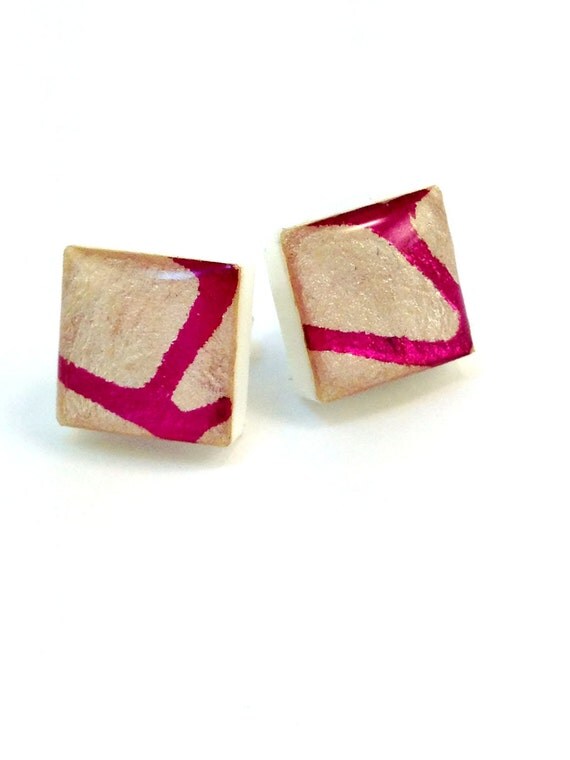 Ivory and Pink Resin Stud Earrings £6.45 Jackdaw
Christina will also soon be launching a new series of poppy jewellery to raise money for the
2013

Poppy Appeal

. Look out for it as a great way to help contribute to the appeal.
You can find out more about Jackdaw Jewellery and see lots of gorgeous items here: