I love pottering around the kitchen pretending I know what I'm doing. I do like baking and often make sweet treats but I don't really understand what I'm doing, I just follow the recipe (which I have to look up every time as I can never remember them!). I find wearing a pretty apron makes me feel more like I'm a proper baker and as such I have quite a few of them - including a half apron I even attempted making myself, it doesn't look bad from the front but the back is ...well, the less said the better. Anyway, I can't resist looking at lovely aprons which is what has led to this post.
As usual, this post is in no way sponsored or influenced. The crafter featured is genuinely a favourite of mine; all quotes are the crafter's own and the opinions are mine. So, with this in mind this week's UK Crafter of the Week is...
Rosie Ann
The first item of Rosie's (a fellow Sheffielder) I saw was a floral half apron similar to the one in the picture below. Remembering my effort of a half apron, I couldn't help admiring how gorgeous it looked! Like all Rosie's designs, it's completely handmade and uses more than one fabric to give it a truly luxurious feel. I love bright colours on dark backgrounds and I think the purple fabric co-ordinating with the roses makes that contrast even better. The purple fabric also adds extra features, like pockets which are always useful when in the kitchen, to make you feel like a true domestic goddess now matter what your cooking skills!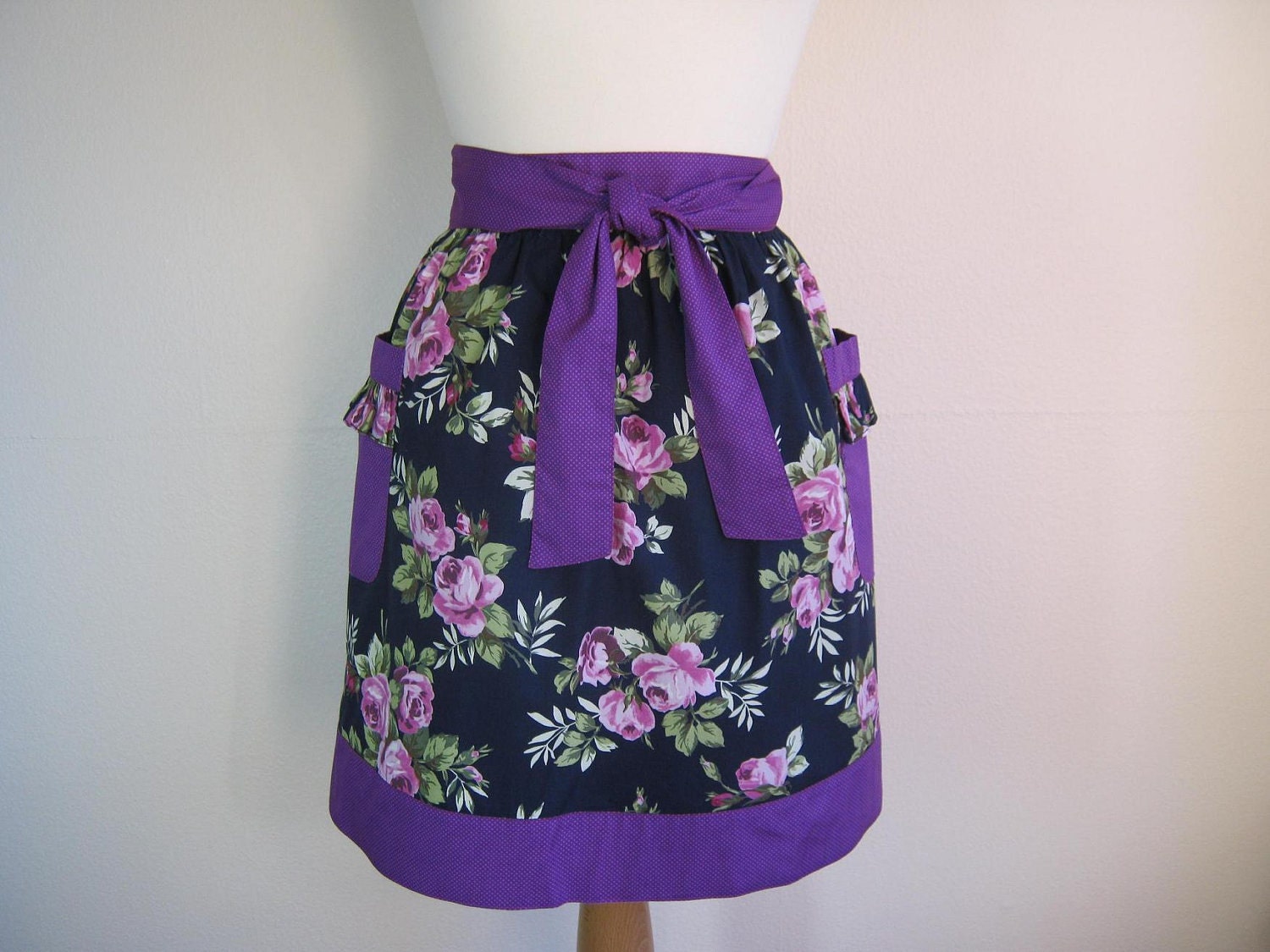 1950s inspired purple floral apron £14 Rosie Ann Etsy
When I first saw the apron below I thought it was a dress (something else Rosie makes) and was admiring it before I read the description and found out it was an apron. This actually made me like it even more, image wearing it while cooking, you'll feel dressed and ready for any occasion! This is something else I love about Rosie's designs, they'll make even an everyday meal feel like a special treat. Her aprons are also fully lined adding to that special feeling.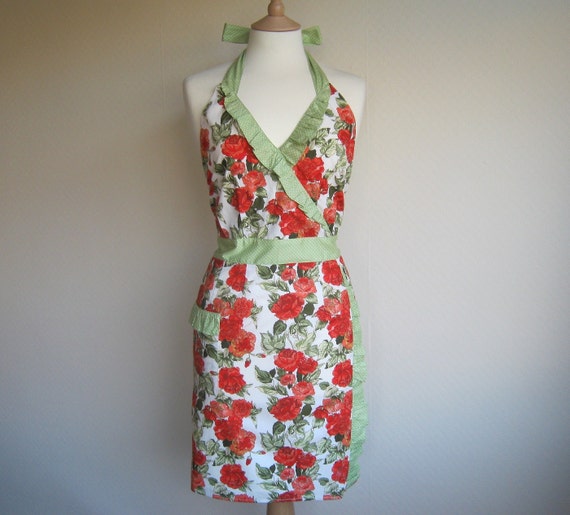 1950s inspired orange floral apron £22 Rosie Ann Etsy
As well as aprons for the adults, Rosie makes cute aprons for children too. This adorable polka dot creation would tempt many a little girl into the kitchen! Playing dress up was always fun as a child so being able to wear an apron like this would fulfill many childhood wishes! How wonderful would it be to have matching aprons while teaching your daughter how to cook?
Girl's blue and white polka dots apron £12.50 Rosie Ann Etsy
As I said above, as well as aprons Rosie also makes some gorgeous retro style dresses to her own designs. This wonderful floral dress is available in different sizes and is perfect for wearing to a dinner you've made after cooking up a storm in the kitchen!
Retro style floral dress £39 Rosie Ann Etsy
To see more of Rosie Ann's work take a look here:
Rosie Ann on Etsy