While I was writing my post on gift wrapping earlier this week I was reminded of some beautiful hand printed gift wrap I'd seen before. So I looked back to where I found it and it's become part of the latest feature in my Favourite Crafters series. I love wrapping gifts (sometimes I buy extra gifts just as an excuse to try more wrapping ideas!) and finding beautiful ways to present items I've spent time finding for friends and family to make them extra special and thoughtful.
As usual, this post is in no way sponsored or influenced. The crafter featured is genuinely a favourite of mine; all quotes are the crafter's own and the opinions are mine. So, with this in mind this week's UK Crafter of the Week is...
Handmade and Heritage
As well as gift wrap, I also love birds (as anyone who's seen how my bedroom is decorated will tell you!) so I was intrigued when I first saw some brown paper gift wrap with owls printed on it. Looking into it to find more details, I discovered that the wrapping was in fact handprinted using lino printing and based on original drawings by Amiee, the creative talent behind Handmade and Heritage. I love that each piece is handmade and unique with slight variations because of the production technique and, as it's made to order, is made especially for you, the customer.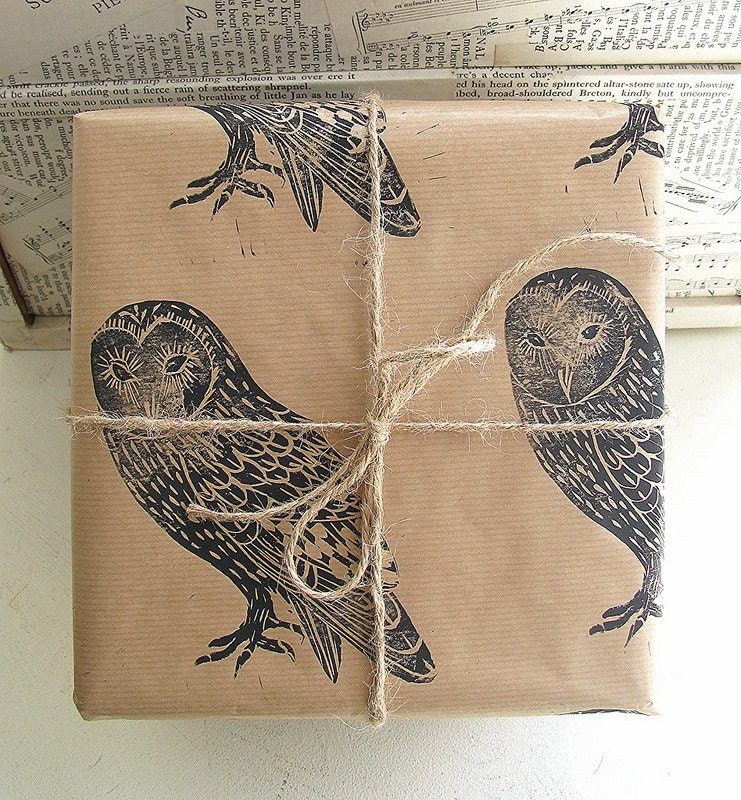 Barn Owl Rustic Gift Wrap, 3 sheets £6 Etsy
Amiee has an artistic background having studied fashion and clothing and working as a milliner. She was also inspired by her creative parents and their 'ability to make something out of nothing' which I love the idea of; it also reminds me of how Amiee's gift wrap is made to order so when you buy it is essentially 'nothing' waiting to be created! I think this makes it a truly personal and thoughtful choice as a way to share the present you've chosen for a loved one. She describes the creation of Handmade and Heritage as an ' evolution of many creative ideas over the years' inspired by and combined with a 'love of traditional craft, baking and gardening' into which she could 'incorporate my love of British nature and birds'. I love all these elements and think they truly come across in all her work.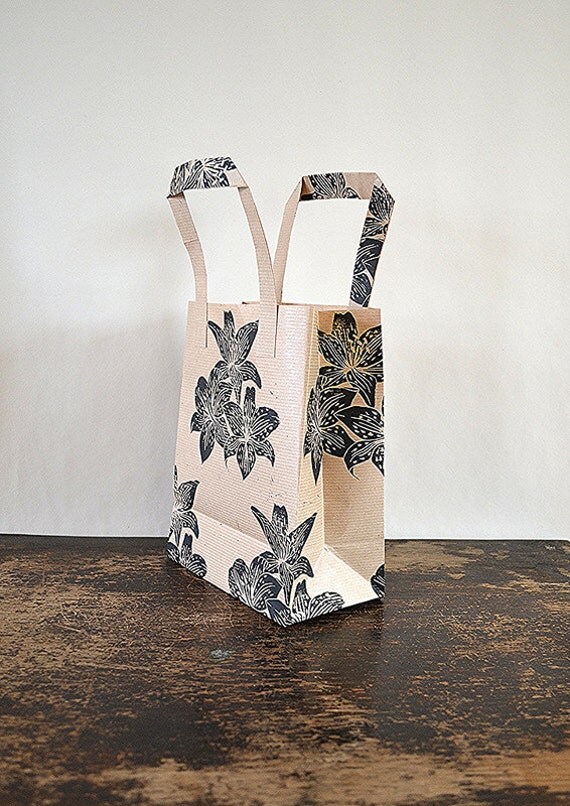 Hand printed brown paper gift bag, £2 Etsy
I've tried hand printing on brown paper before to make my own wrapping, but I'm not very neat and end up with smudges, inky hands and streaks all over the paper! I really admire the quality of Amiee's work and patience to hand print all her items. She describes it this way, 'there is something very calming about printing, I think its the repetitive nature of it', maybe I could learn something from this in my own crafting! Amiee turns her dining room table into her workshop in the evenings after her looking after her two young children but is 'hoping to have a studio space soon so I can claim my dining table back!'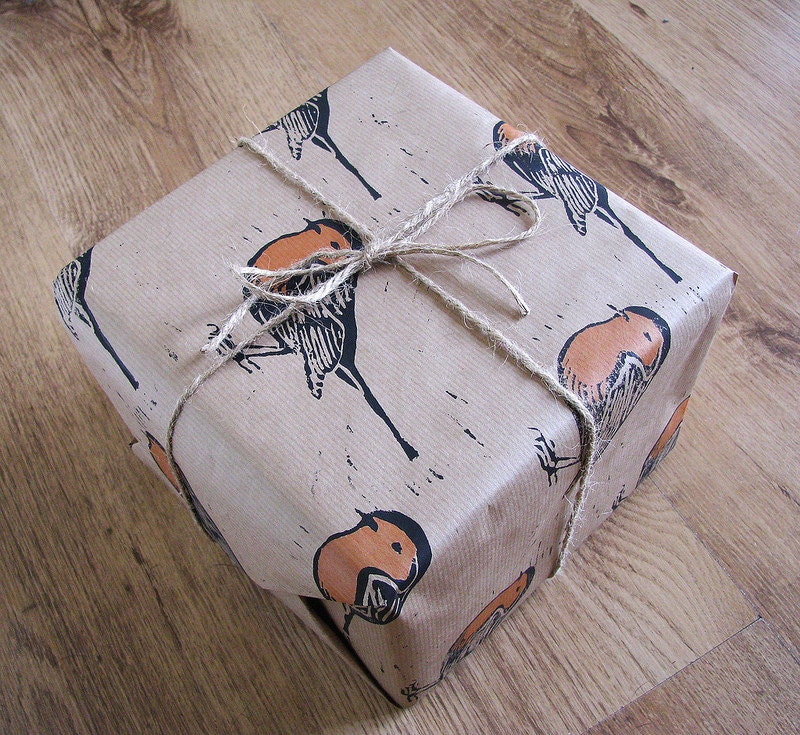 Robin Red Breast Gift Wrap, 3 sheets £6 Etsy I think it would make great birthday or Christmas paper
As well as gift wrap, Amiee also creates embroidered gifts (perfect for having something to wrap up!) using her crafting experience from over the years. These include hand stitched bird buttons beautifully embroidered onto wool felt which make great accessories for clothes or making into unique jewellery or accessories. I love adding items like this and vintage brooches to my bags as I can change them to match my outfit, mood or the season. I think the button below would look lovely for the upcoming autumn months with its soft moss green and rusty orange.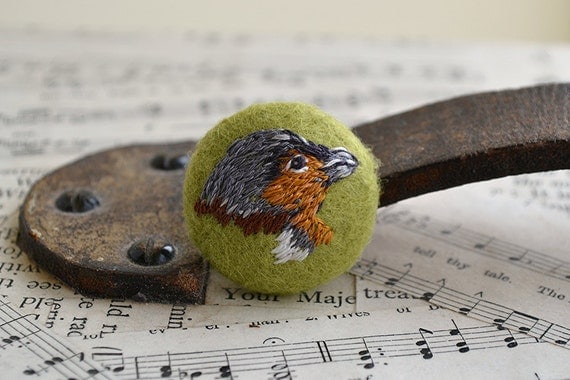 Hand Embroidered Chaffinch Bird Button £7 Etsy
I love the rustic, natural and traditional look of all of Amiee's work and if you'd like to discover more too you can find here in these places: