A couple of weeks ago I had a stall at a craft fair and I included an item I don't usually have on offer.
I'd dedicated the stall to upcycled items I'd made and I loved sharing my products and the conversations with customers about how unique the items were as well as the stories about how each card or gift related to the recipient. I also loved sharing ideas and listening to how other crafters like to upcycle too.
Some of my stash of stamps
Amongst the items on my stall I placed a little bag of used postage stamps. It didn't look out of place as I had some other bags of goodies ready to be upcycled too. However, this item was different. Instead of having a price tag in the corner, on the back was a message waiting to be read. It said:
'These stamps are free to a crafty home. All I ask is that when you've made something with them you send me a photo that I can share.'
A couple of people looked at them, but didn't turn them over. I didn't want to point out the message sticker; I wanted it to be a little surprise for someone. Then along came (another) Laura. She picked up the little packet and told me about how she loved postage stamps and had seen a mirror whose frame was covered in them. She also said she wanted to have a go at making one too, so I thought the perfect person was here. But then she put them down (without turning them over) and walked away!
However, this wasn't the end of the story for the stamps. It turned out Laura had a stall at the fair too for her own craft business Sat Amongst The Stars. And later that day her mum returned to my stall on her behalf to buy the stamps - and that's when the message was discovered! I was told that Laura was crafty and would put the stamps to good use and since that day I've been patiently waiting to see the result. And this week I saw it!
Laura tweeted me this picture of the fantastic mirror she made by incorporating the stamps - just like she said she wanted to do!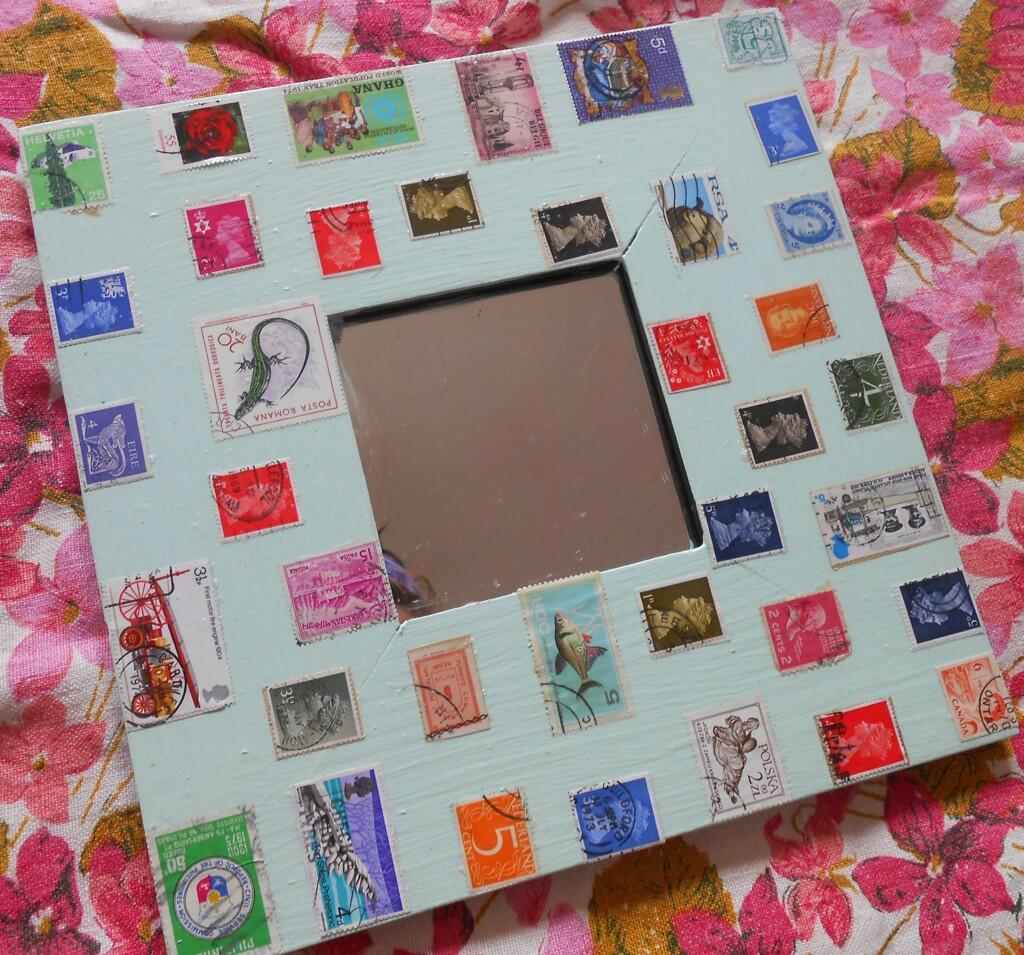 Laura's postage stamp mirror.
I love a bit of decoupaging myself so I was thrilled to see this. Usually when I cover something with stamps I go a bit overboard because I want to use every colour and image! Laura however showed more restraint than I have and created this lovely pattern with them.
That's one thing I love about crafting and upcycling. How two people can start out with the same materials and create two unique pieces.
So, that's the story of my bag of stamps which gave a little gift of creativity to Laura who kindly crafted and shared her unique work.
If you'd like to see some of Sat Amongst The Stars' other work, you can do so here:
https://www.facebook.com/satamongstthestars