Bags and purses are something I believe it's impossible to have too many of... unless you have so many that you literally can't get into your house, but I don't have that many...yet.
I particularly like the classic purse frame and the satisfying 'snap' it gives when you close it. I also love modern, colourful fabrics and with this week's shop I get to see both.
This post is in no way sponsored or influenced. All opinions are my own and any quotes are taken directly from the people I'm writing about.
This week I'd like to introduce you to...

Octopurse is the wonderful creation of Daphne and is based in Belgium. She designs and makes all her items herself and is involved in every aspect of the process, as this fantastic photo proves!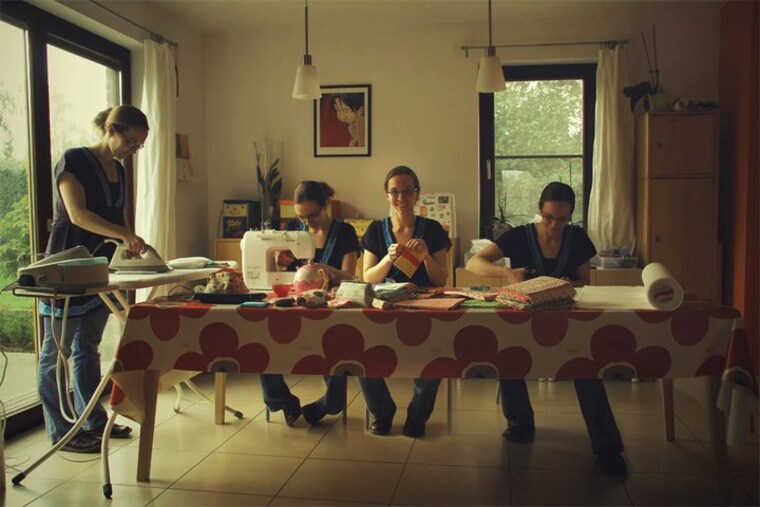 In Octopurse's shop you can find all kinds of fun accessories made with some 'colorful japanese and US fabrics' in a whole range of colours (so you can have an excuse to get one to go with every outfit!). Daphne first made some purses a few years ago as teacher gifts but as she says her 'fingers have never stopped moving' since and her hobby has turned into a business.
Add caption
I'm always drawn to bright and unique fabrics and I think Daphne matches the patterns and her designs really well to get the most out of them. Whether it's featuring a picture or element of the pattern in how she cuts the fabric or choosing the frame/fabric combination, all her items look fun, fresh and well designed.
I also love an element of mixing old and new and some of Octopurses pieces do this too. The classic purse frame has a recognisably vintage style bringing associations of glamour and style, but the fabric choices bring it right up to date to make it fit with modern outfits too. Daphne has 'done many tests to find the best shapes and a great "puffy touch" which all adds to the charm of her pieces.
And it's not just purses you'll find, Octopurse also offers clutch bags, phone covers, card holders and magnets.
My favourite fabrics have to be animal patterns:
Find out more about Octopurse:
Facebook
Shop on Etsy
Website