One of my favourite things about being an online crafter is the crafting community.
Wherever I look, whoever I contact, whatever I want to find there are always loads of great products, advice and ideas from such friendly people. So I thought I'd put all that research (or being nosey) to good use by featuring one of my favourite UK crafters every week.
(That's not to say I don't like, or won't feature crafters from other places!).

This post is in no way sponsored or influenced. Each post will feature shops I've found myself and genuinely admire. The opinions are my own, the quotes are from the crafter. Here's my first favourite...
Button Owl
I first came across Button Owl one day on Facebook.
There was an adorable picture from a craft stall with the cutest animal cushions. I made a comment that this was the type of stall I'd spend my money on before I'd made any when I do craft fairs (which often happens) and followed the links to the online shops.
And I fell in love with the cute creatures!
The cute cushions that first caught my attention. Jungle Friends set of 3 cushions £50 Button Owl
I contacted Roz McKenzie, the talented crafter behind Button Owl, about looking for a present (no more details though, just in case the recipient is reading!) and she quickly replied with details and a friendly message.
She also told me some more about herself and how she got started by being inspired by her mother's dress making which Roz was involved with. This experience led her to studying at the Royal School of Needlework and learning 'traditional embroidery techniques such as the Coronation gold embroidery which is placed on the Coronation robes when a King or Queen is Coronated' and teaching embroidery too.
I can't resist a dinosaur! Applique T Shirt £12 Button Owl
After Roz 'diverted for a while' working in London, she decided to start making and creating again.
This was spurred on when she had her two daughters as she 'couldn't ever find really unique items to place in their rooms' so decided to make them herself – and this is when Button Owl was born.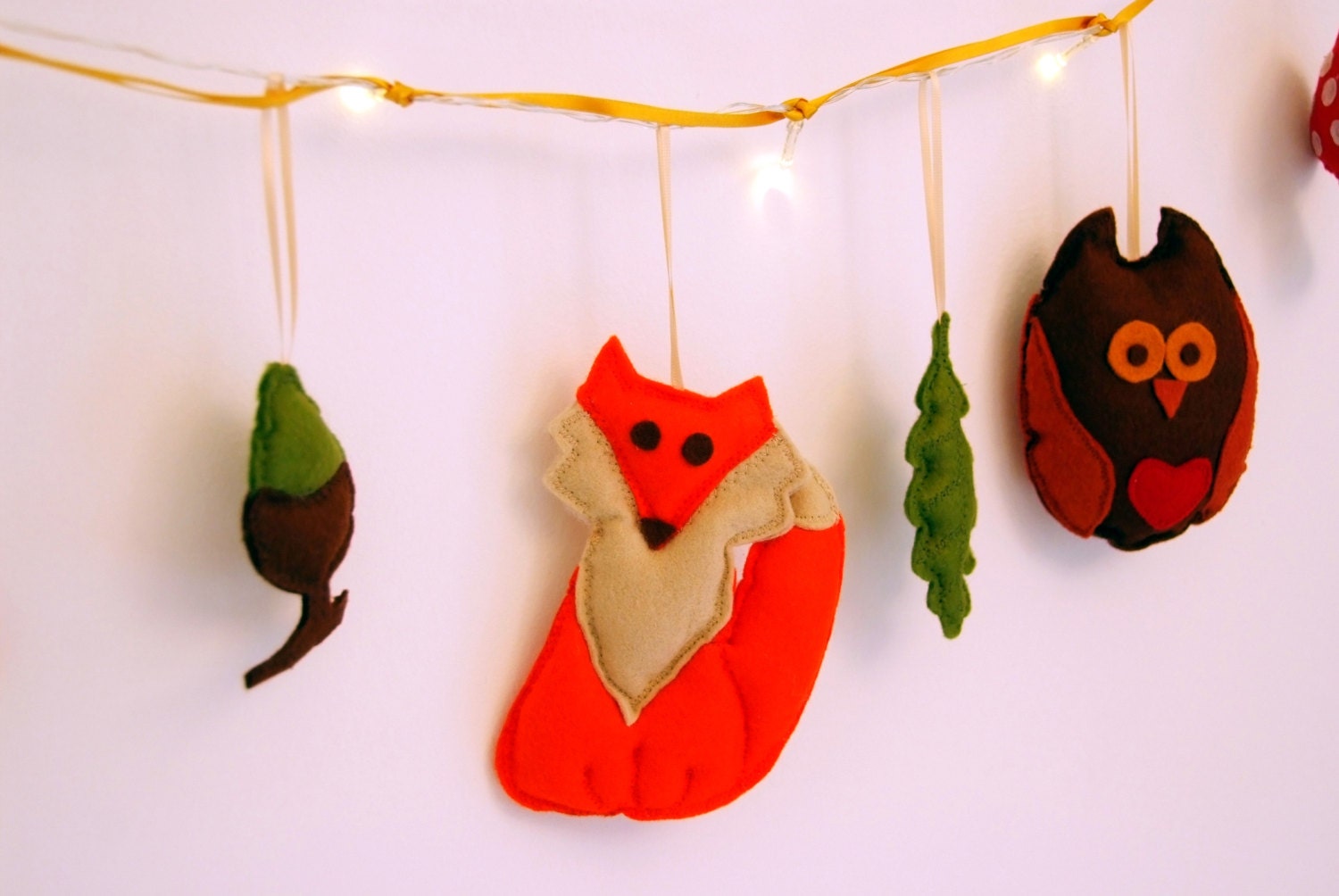 An adorable woodland garland with fairy lights. £26 Etsy
Roz's online shops stock a variety of adorable, handmade and colourful characters in the form of cushions, wall hangings and appliqued t shirts as well as other clothes, hair accessories and soft furnishings for children. She loves working with felts as 'they can be moulded to different shapes and are lovely and soft in beautiful varied colours' which I think makes her animals all the more appealing.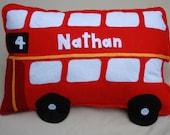 How could any little boy or girl resist? Personalised London Bus Cushion £18 Etsy
I've featured some of my favourites here which I think make lovely presents for children (and adults – I'm not above having an animal cushion or two around the house!) but do have a look for yourself using the links below as there are too many to feature here and I'm sure you'll find favourites of your own.
I'll leave the last word to Roz, which I think will resonate with many crafters out there, 'I absolutely love the thought of people having and loving something so unique and personal which I've handmade.'
You can visit and shop with Button Owl here: