Stationery. Something I just can't resist! I have a huge collection of notebooks, pencils, erasers, novelty paperclips, post it notes, rulers... the list goes on and on (as does the space it takes up in my house). So whenever I see a hint of stationery anywhere I always have to look, and with my favourite crafter this week I looked quite a few times at their unique creations (and also discovered some other treats too).
As usual, this post is in no way sponsored or influenced. The crafter featured is genuinely a favourite of mine; all quotes are the crafter's own and the opinions are mine. So, with this in mind this week's UK Crafter of the Week is...
Vivid Please
Vivid Please are the wonderful creations of Vicky and David who together combine their skills to produce quirky and fun stationery, jewellery and home accessories. Vicky does 'most of the illustrations', David is a 'technical design wizard' and when their ideas meet it's gorgeous and cute items like this typewriter notebook which result.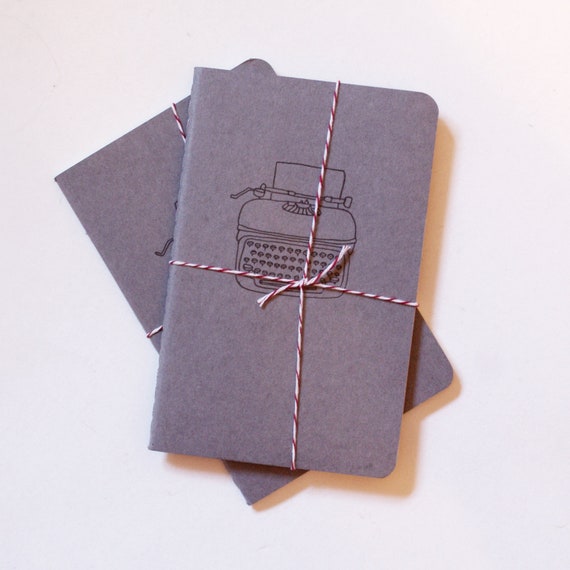 Typewriter Moleskine Customised Notebook by Vivid Please £4.50
There's a strong sense of fun in all the items in Vivid Please's shop, which isn't surprising as Vicky and David started working together because of 'a similar sense of humour and a love of all things odd'. Their first creations were made just to amuse themselves and share with each other at the advertising agency where they worked but soon caught the attention of their colleagues who wanted some for themselves! This made them realise they 'weren't the only ones who liked quirky things' and so started to make items to sell opening their online shop.
Vivid Please 'believe that a good design should not just fit into one category' and so you can find their clever ideas in all kinds of guises including some wonderful brooches (another thing I have far more than I need of!), iPhone cases, mirrors, cards and prints. Between them Vicky and David have a 'fine art and graphic design background' both of which clearly come through in this cute deer brooch which is hand painted and has a modern graphic feel to it too.
Another element of Vivid Please's work I find appealing is its friendly and comforting style. Based in Scotland where it 'rains a lot', Vicky and David like to find a 'cozy nook' to create in and this idea of being warm and cosy translates into their work too, especially home accessories such as this Mac N Cheese print. Not only is this the best comfort food there is (I've tried a lot, I know my comfort foods!) but the style reflects the relaxed and happy nature that clearly comes through from their fun partnership.
With the present giving season coming up there are lots of great ideas from Vicky and David, so check out the links below!
To see more of Vivid Please's wonderful creations, take a look here:
Shop with Vivid Please
Vivid Please Blog
On Twitter
On Facebook