I can't resist a cute illustration, especially when it's an animal - and even more when it's an animal that's dressed up! That's what drew me to this lovely shop where I discovered lots of drawings, both animals and others decorating a range of accessories.
As usual, this post is in no way sponsored or influenced. The crafter featured is genuinely a favourite of mine; all quotes are the crafter's own and the opinions are mine. So, with this in mind this week's UK Crafter of the Week is...
Illustrated Goods By Zyzanna
All of these wonderful creations you're going to see are based on original drawings by Zyzanna - although she admits this isn't her real name, it's 'what I've been called by friends and family since I was 14'. I think this is a great name to reflect her work - it's original, different and fun! As I said above, I can't resist an animal that's dressed up and this is even more true when it comes to cats. Obviously, dressing up real animals isn't such a good idea (although I keep trying to get my brother to dress up his cat but for some reason he won't let me) so drawings are the best way to see this! This little kitty is all ready for winter in his chunky jumper.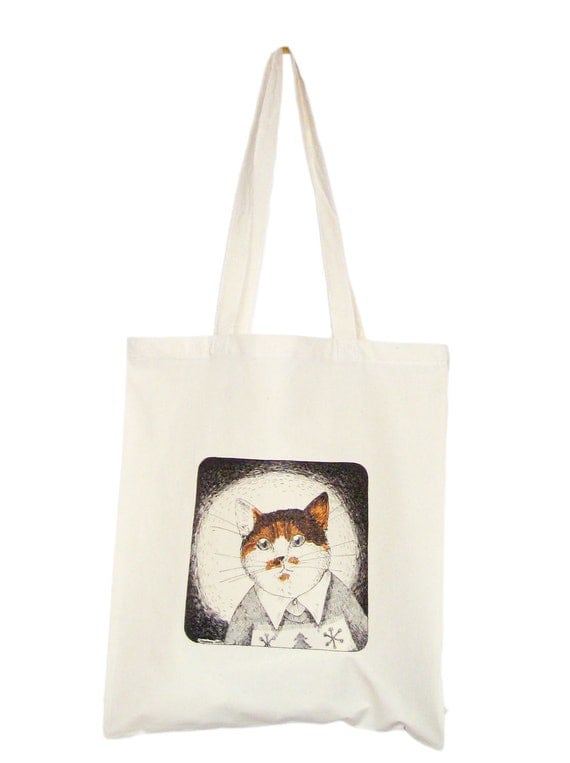 Cat in a knitted jumper shopping bag £10.00 Zyzanna
Not all of Zyzanna's creatures are dressed up though; some are just as nature intended such as the lovely barn owl brooch below. Zyzanna 'discovered what an amazing material shrinky plastic is' and has made lots of unique jewellery using it based on her original drawings. And this isn't the only brooch she makes; there are a range of different birds and even some lovely trees for them to be mixed with to create a lovely jewellery woodland.
Zyzanna has always loved drawing as says it's something 'I seem to do ALL the time'. She's known since she was little that she wanted to be an artist and this childhood dream has come true having graduated in illustration from the Edinburgh College of Art and set up her own business. She originally drew pictures such as the one below and still sells them but realised she could also apply her beautiful drawings to other items to produce a whole range of accessories.
Currently Zyzanna is based in 'rainy' Edinburgh and this has clearly influenced these earrings! (There's also some other lovely raindrop based jewellery in her shop too). I love the idea of having a set of three earrings to interchange and wear in your own style - they also come in different designs so swapping between the sets would create some interesting combinations too!
To see more of Zyzanna's wonderful work take a look here: